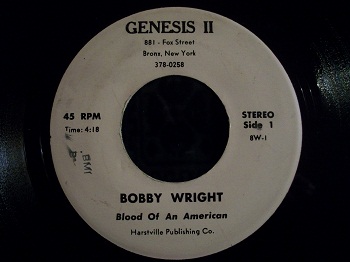 Blood Of An American
Everyone Should Have His Day
Few records that I've found over the years have inspired as much awe, curiousity and frustration on my part as this sublimely beautiful and utterly obscure folk-soul 45 from the Bronx.
The awe part is self-explanatory, or at least should be after you've listened to the mp3s and assuming your musical tastes are somewhat in sync with my own. The curiousity and frustration stem from not being able to place Bobby Wright's musical contribution in a fuller, more meaningful context. In other words, who was/is this guy, did he ever issue any other recordings, and is there unreleased material existing somewhere in a dark corner of this earthly plane.
If so, it absolutely needs to see the light of day, so here's to hoping anyone with some knowledge to share reads this blog and is kind enough to contact me (either by posting on the blog or via email at kidinquisitive@gmail.com). I know some people who run great record labels who would almost assuredly be interested in reissuing this music. For now I thought I'd share these sounds with the very tiny sliver of humanity that reads soulpersuasion.blogspot. Also, if anyone has a clean copy of this 45 to spare (I know, fat chance), I would love to be able to upgrade my copy someday.
My guess would be that this came out sometime in the early to mid-1970s. There's a little BMI stamp on the label but researching their database yielded nothing. And the trail pretty much ends there, as far as I know. I live in California so poking around the Bronx in search of clues has not been feasible, and anyway the trail is probably pretty cold by now.
I've been meaning to write something about this record for a long while, and finally decided to do so after sitting down today with my brand new copy of Willie Wright's Telling The Truth LP, expertly researched and reissued by the Numero Group record label. Besides sharing a last name, Bobby and Willie's music are similar enough in style and temperament that drawing a connection between the two seemed somewhat obvious. You can hear snippets of Willie Wright's music at the
Numero Website.